In the modern era, when it comes to games, People are fond of playing games and that too with the best gaming PC. In this article, we are going to tell you about the best gaming Pc build under 50000. So if you are fascinated by games and if you are planning to build gaming pc then this article is extremely beneficial for you.
Read it out, get each and every deep knowledge of gaming pc.
Firstly, you need to understand that
What you Need to build Gaming Pc under Rs 50,000?
There are some important parts of Pc that play a key role in building gaming pc such as processor, motherboard, ram, storage, graphic card, monitor, etc.
1. Processor – AMD RYZEN 5,3600
Every gamer deserves a powerful processor so that, they can enjoy their game and don't have to face any disturbance or problem while playing a game in their system.
This AMD RYZEN processor is one of the best processors in the market for gamers. It is the basic requirement for the gaming pc build under 50000 rs in India.
It has serious gaming and fully unlocked features which makes it the best processor in the gaming field. It was launched in 2019. Hence, you can choose it to build best gaming pc under 50,000.
General Specifications of AMD RYZEN 5,3600 Processor.
| | |
| --- | --- |
| CPU course | 6 |
| Base clock | 3.6 GHz |
| Max.boost clock | UPTO 4.2 GHz |
| Default TDP | 65 W |
| CPU cores | TSMC7 Nm finfit |
| CPU socket | AM4 |
| Thermal solution (PNP) | Wraith stealth |
| System memory type | DDR4 |
| Memory channel | 2 |
| Product line | AMD RYZEN Desktop processor |
| Total L3S | 32 MB |
Cost – The amount of AMD RYZEN processor is approx 13,790 rupees only which should be invested to make best Gaming Pc.
2. Motherboard – MS1 B450 M Pro M2 Max Gaming m-ATX
The motherboard is not necessary only for gaming pc. It is significant for almost every PC system. It has extremely crucial important in the computer or system. It is also known as the mainboard, is the main circuit board of any electronic system. It is important for functioning in any electronic system. MS1 B450 M Pro M2 Max Gaming m-ATX is one of the top processors available in the market which is tremendous for gamers. By using this a gamer can easily enjoy his/her game.
So, this is another important element for Gaming Pc Build Under 50000.
General Features of MSI B450 M Pro M2 Max.Gaming m- ATX
DDR4 memory supports up to 3466 MHz
Audio boost – studio-grade sound quality
Advance technology for data signal
Turbo M.2 running
Fully digitally power design
PCI-E steel slot, protecting VGA cards against bending
Better performance
The easiest way to troubleshoot
Cost – The amount of motherboard is approx. 6000 rupees only.
3. RAM – Crucial 8 Gb Ballistix Sport Lt DDR4 3200Mhz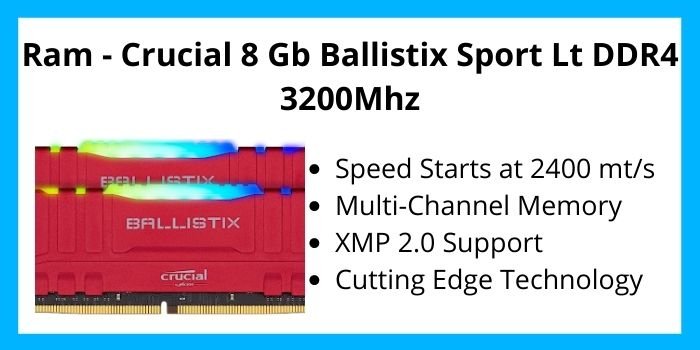 It is an internal memory of the computer, it stores data. Without RAM you can't store your data whether it's files, games, stream, and it would also not work therefore ram is extremely dominant in gaming and it should be the part of best gaming Pc build under 50000. So, here you can choose crucial 8 Gb Ballistix sport ram to make your PC into a heavy gaming Pc.
Special features of crucial 8 Gb Ballistix sport Lt DDR4 3200MHz
Modern design
Redefine game performance
Compatibility tested
Black anodized aluminum heatsinks
XMP technology developed by intel
Standard memory card
Memory kit CAS latency timings
XMP 2.0 support
Higher performance with overclocking
Price – The amount of crucial 8 Gb Ballistix ram is around 3200 rupees only.
4. Storage – Crucial BX 500 1 TB SATA SSD
Storage plays a dominant role in the system. So, it is very important for the best gaming pc under 50,000. It is used for storing, forting, extracting data, files, and objects. It stores information whether it is temporally or permanently. This can be the in gaming pc to store large gaming files or data.
Top features of crucial BX 500 1 TB SATA SSD
Apps launch in seconds
Games load before you are ready to start
300% faster than a typical hard drive
Improve overall system response
45X more energy
Rated speed -1350 revolution per minute
2.5 inch /SATA/ 6Gb ,SSD endurance TBW – 360 terabytes
Price – The range of crucial bx 500 1 TB SATA SSD RAM is around 8000 rupees.
5. Graphic card – GALAX Geforce GTX 1650 Super
In an easy way you can understand that a Graphics Card is a kind of boost card that generates fantastic images on your display .they are used for gaming, ray tracing, graphic solution. You will have to purchase a graphic card for having a great experience of a game.
Best specifications of GALAX Geforce GTX 1650 Super
Graphic Coprocessor – NVIDIA GeForce GTX 1650
Video output interface – desktop port, DVI, HDMI.
Graphic ram-type-GDDR6
Engine clock boost – 1620 MHz
Overall great performance
High-quality

Graphic card cost you at Rs 20,000 to Rs 30,000 to make a Best Gaming Pc Build Under Rs 50,000.
6. Power Supply – ANT Esports VS 500L
The main work of the power supply is supplying current. It converts the high voltage current to direct current. They also regulate voltage in computing components that's why power supply is a must in gaming pc.
General features of ANT esports VS 500L
12V rail promises reliable power
Silent 120 mm fan with 100,000 hours lifespan
Modern connectors
High-quality components
2-year warranty
The cost of power supply is a maximum of 3,200 rupees Approx.
7. Multi Ultra Thin Optical Computer Mouse
As you can see that this mouse is ultra-thin and slim. It is the best wireless mouse for under 2000 rupees only. It must be a part of the best gaming pc build under 50000. It is comfortable and mostly used by full-time gamers.
Top Features Of Multi Ultra-Thin Optical Computer Mouse
RGB A2 adjustable
Rechargeable
Optical wireless
USB wireless connectivity
Cost – The amount of multi ultra-thin optical mouse is approx is 800-1500 Rupees only.
8. Monitor – Acer 23.6 Inch Full Hd Led
Without display you can't have an experience of gaming. It is an electronic device that shows pictures on your screen so this monitor can be one of the best monitors for building gaming PC.
To make a best gaming pc build under 50000 with monitor in India, You can choose Acer 23.6 Inch Full Hd Led monitor. It has a higher display resolution. A display screen that provides visual output from the computer.
General specifications of Acer 23.6 inch full HD led
Panel type – TN panel
Screen resolution – full HD
Brightness – 300 nits
Response time -1 ms
HDMI ports – 2
Price -The price of Acer 23.6 inch led is around 11,500 rupees.
Conclusion
These are the various parts of the system which you will have to assemble for an average gaming pc and we can say that the price range we set at the beginning of the article it is a little bit difficult to have the best gaming Pc build under 50000. So, you will have to increase your budget a little bit then you can have an amazing experience of gaming.
FAQ
Can We Build The Best Gaming Pc Under 50000?
It is not possible for best gaming Pc build under 50000 rupees, So you will have to increase your budget a little bit.
How Much Does It Cost To Build Gaming Pc In India 2022?
If we talk about the cost to build gaming Pc 2022, You will have to pay at least rs 55000 – 60000.
Are 60,000 Bucks Enough For A Gaming Pc?
Yes, you can easily assemble a gaming pc under 60,000 rupees and enjoy the fantastic experience of gaming.
Other Blogs You May Like: