Webcams are not only useful for boring conference calls. There are also some high-quality cameras that you can use for serious content creation. If you are using a webcam at this time, which you use as a source to work from home then you need really good software. You should use the best webcam so that there is no problem. Here now we tell you some good Top 10 best webcam Effects software which you will like to use.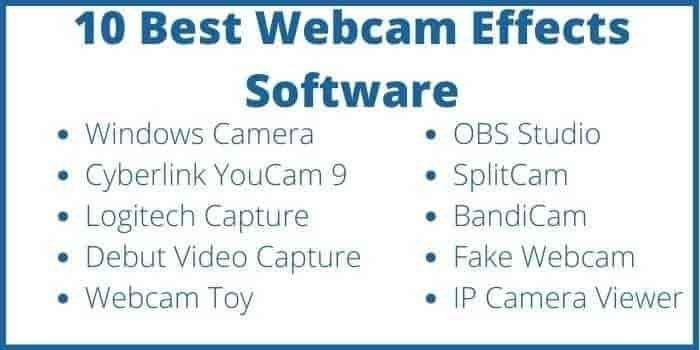 This are the List of webcam effects software for Windows 10 at Low-cost prices.
1. Windows Camera
This is really free and easy, anyone can use it easily. When the camera app is built-in Windows 10 but you also need third-party software then it's not a big deal. It's not the most feature-rich app, but if you want something to take some photos or capture some quick video clips then choosing this is really a good option for you, as this is free too. You can also access any resolution and frame rate your webcam is capable of shooting. This is a simple case of plug-and-play, and there must be no further download required in this. Those who are looking to purchase can use VPN for getting a different discounts from different locations. In such a case, you can have the biggest opportunity to grab the best VPN black deals with huge discounts.
Cyberlink YouCam 9
If you want features and lots of good things then YouCam 9 by Cyberlink Coupon Code is the best app around. This is not free for you, but it also gives you 30-day free trial, which you can use and then trust it. After the free trial it costs, but the basic feature remains free. The major selling point of YouCam 9 is creative control. It helps you a lot if you're a YouTuber or Streamer. It's also perfect for business use if you integrate it with apps like Skype and Google. Its price is also not high, it just costs you $35.
Logitech Capture
In Logitech webcam, you get everything you want. It works with all recent webcams from the company. It has built-in customization and studio tools, things like text overlays, built-in broadcast capabilities, and full control over resolution, frame rate, and settings like exposure. It's totally free, there is absolutely nothing to lose. You can see this free at Logitech.
4. Debut video capture
Debut is slightly more complex than some of the other apps on this list, mainly because it is more than just a webcam tool. It can also be used as a screen recorder for your PC and can combine your webcam as an overlay. You can record video, photos, and audio, as well as add all the necessary video quality settings, color settings, text, timestamps, and many more things. This is not free software, you need to pay just $35. So, it is not a big deal, anyone can buy it easily and use it.
Webcam toy
Usually, a great app can only be put in PC's but there is nothing like this in such a type of webcam. Webcam Toy is a web app that can be accessed on any computer in any browser. It's simple, you can capture images and videos while having some fun at the same time by adding some goofy effects. It is free, lightweight, and does not require any form of installation. You may see it free on a webcam toy.
6. OBS Studio
OBS is far more than just a webcam app, popular among streamers the world over. This is usually used by Streamers and Creators. This has a lot of features and everyone is happy to use it to date. There are several software you can use too but for the streamers, OBS is one of the best choices. There is no other better than this. Once you use it, you will totally like it for sure.
7. SplitCam
SplitCam is not as popular as the other free webcam software windows 10. But it has earned a lot of fame in the past few years. This is because it doesn't integrate with some of the world's renowned social media platforms like Facebook and Instagram. However, you can use this software to stream, take snapshots, and record videos for YouTube, Skype, and Windows Live Messenger. SplitCam is a simple interface and is Integratable with messaging apps. It supports a wide range of resolutions.
BandiCam
If you want a software for screen recording, recording your gameplay, or capturing videos then choosing BandiCam is totally the right option for you. You can also merge two or more videos, and files, remove unwanted parts, and select the only part to screen record. BandiCam is totally free webcam software for Windows 10 with the capability of capturing high compression videos and games. You can record 2D or 3D videos in HD mode with this and can also capture fast-paced videos of up to 144 FPS.
Fake Webcam
Fake Webcam is a free webcam software for Windows 10. It is creatively used to suggest for those who need a great webcam for them. You can truly use this software to broadcast, add effects, add filters, record on full screen, and fake your voice. To share or stream your photos and videos on Skype, YIM, or Gtalk, using the screen recorder would give the best results. So using the screen with Fake Webcam will be the best option for you all. It supports all video and audio formats and can also convert file formats and streams to any channel. There is also an availability of the screen recorder in Fake Webcam.
IP Camera Viewer
IP Camera Viewer is the most effective webcam software for video monitoring systems. IP Camera Viewer is the most used free webcam recording software for windows 10 as its compatible with almost all IP camera models like Panasonic, Toshiba, Canon, D-Link, Sony, and more 2000 others. With the capability of viewing and controlling 4 camera feeds at once, you can use this software for sure. In this software, you can automatically upload recorded videos and photos to a server. It is just compatible with almost all IP camera models. It is actually very simple and easy to use. Anyone can use IP Camera Viewer and have fun using it.
What webCam Software do streamers use?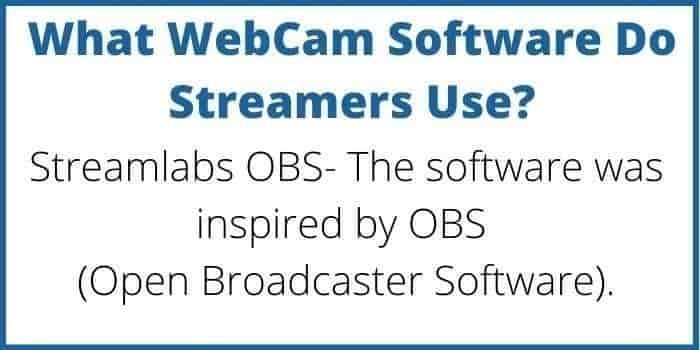 If you are a steamer and want to use the best software then use the Streamlabs OBS. It is easy to set up and free to use software for the steamer. It offers the excellent services and features that a steamer wants in webcam software. The software was inspired by OBS (Open Broadcaster Software). Here is the best cost for a virtual reality developer for your business.
What is the best Universal Webcam software VideoCall?
During this pandemic, the use of video call software is increasing. Most of the software offers you the paid services and restricted also. But, you have an amazing option to opt for the best universal webcam software videocall. You can choose the best software from the list mentioned below. In the list, you will get free webcam software for Windows, Mac, Linux, etc.
WebcamMax Free Version- For Windows – Freemium Software
Webcamoid- Windows, macOS, Linux – It is free to use
WebcamStudio- Linux – Free to use
Manycam Free- Windows, macOS – It is freemium software
Webcam Capture- For windows free to use
How can you improve the quality of my webcam?
If you are using webcam software then might be you want to improve the quality of it. If your webcam footage is dark, grainy, and not just sharp then with the below-mentioned steps you can easily improve its quality.
Use the LED webcam ring light
Use the daylight for a shiny look and clear look
Make sure to use the brightest source for a clear view
Manually change the setting of your webcam
In real-time footage add the color and theme
What is the best webcam face filters online?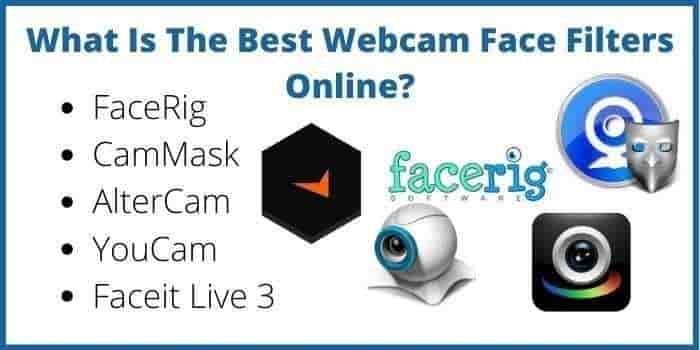 To make your web calling more entertaining you can add fine quality filters. Here is the list of the best online webcam face changers that help you to transform your video chatting experience.
FaceRig
CamMask
AlterCam
YouCam
Faceit Live 3