Redacts the documents first time by businesses, individuals, or some companies are often invited many irregular changes. With the use of how to redact in Kofax Power pdf with its detailed features, an author can properly resolve their problems.
Sometimes redact files take a lot of time from your routine or if you don't use the right tools then the time is expanded. With Kofax power pdf rewrite the text information is permanent or secured, also anyone can redact the file for this no extra technical knowledge is required.
5 Simple Steps for how to Redact In Kofax Power Pdf- Permanently
How to redact in Kofax power pdf easily here is:
Open PDF from which data is censored.
Click on the Security tab from the main menu.
Chose "Mark Redaction."
Select the text which is for redacting, from it change redaction color Kofax that signifies from the red border.
Select "Apply Redaction" on security till the text is out black.
If the user wants to redact only some sentences simultaneously then this is helpful instead of scrolling and rewriting is a cheap and time-consuming process. Some users don't choose to redact because of the price tag also but now with the Kofax discount coupon, users can avail of the price. Get an amazing PaperPort deal at a discounted price that helps users to redact the pdf accurately or permanently in a simpler or faster way. For this, Kofax's next underrated feature helps you:
NOTE
Must ensure the selected text to blackout the text until if you don't click on "Apply redaction" your text is not redacted. The border around the text indicates the area which will be redacted so after the red box indicates click on apply and redact your precious & crucial information
Search and Redact- Useful feature while Redact in Kofax Power pdf
The owner has lots of other tight routines if they can save or utilize their time through redact in Kofax power pdf then it helps him. For a large amount of redacting text, they offered a "Search and redact" tool that rewrites your text faster and the need of finding one text at a time is eliminated. For easier understanding to every user we elaborate this through experiencing the demo in just a few steps:
In the Security tab, choose "Search and Redact."
Search the term that you want to redact in the Kofax power pdf document.
The Power PDF displays all the relevant or related results.
Simply, select the passage or text in which redaction is applied
Click on the "Mark Selected Results for Redaction."
Now with Power PDF, the document is blacked out the selected paragraph or text. After that save your pdf which is an important and must-required step also after this process you have another option. That is the "Remove Document Elements" dialogue box with this feature you can hide sensitive documents details that should not be available publicly.
You simply can select the recommended text through Kofax power pdf rewrite the text is simpler and faster also. For deleting or redacting files through the "Search and Redact" tool click the selecting element that is rewritten, then choose "remove". After redaction, you can save it but must copy the original file for data integrity purposes.
What type of information Redact In Kofax Power Pdf?
Sometimes if the user doesn't know properly how to redact in power pdf with the right tools then it may cause hiding only partial text information. With Kofax power pdf advanced users not only can secure or permanently redact files in a second and save their time.
Also, if you are attentive and redact in Kofax power pdf this type of information then it is a wiser step:
The Social Security Numbers (SSNs)
Accurate Driver's License Numbers
Date of Birth (DOB) of anybody
Medical Record Numbers (MRN)
Pubilc Account Numbers
Their Home Addresses
Must important Phone Numbers
Through redacting the file what consequences may happen and what positive aspects they have if we redact the file.
Points That Be Explored After Redacting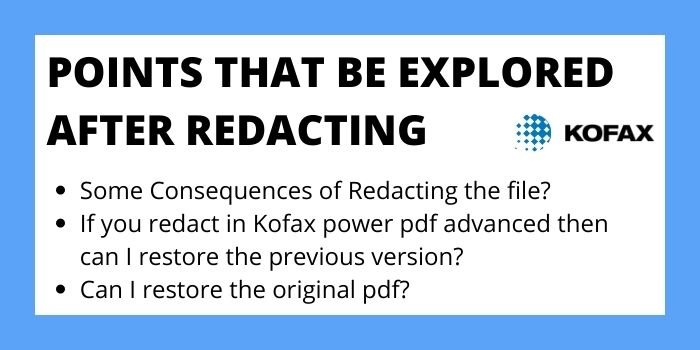 Some Consequences of Redacting the file?
If you redact the file then you do have not to access the original pdf content so make a copy before redacting the pdf. Sometimes if you redact some other text that doesn't need to redact that content also can't be recovered. For data integrity purposes must make duplicate content of that redact file.
If you redact in Kofax power pdf advanced then can I restore the previous version?
No, the previous version or original pdf can't be restored so, it better is to make a copy of your document, and further all changes must be done to that document.
After making some payment can I restore the original pdf?
The Kofax Power pdf rewrite tools are easy to use, companies automated observe the workflow is enhanced by grinding to make secrets from precious documents. The Kofax does not support any type of these features.
Why does Redacting be hard?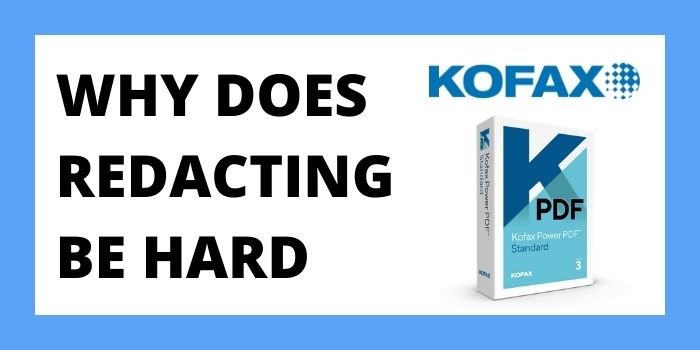 Previously this was only used by the government and such big companies that publish such sensitive data in public. However, other publishers will also need to censor the text or some sentences or redact files. As, because after redacting the file you can make or present more successful or trustful documents by updating regularly.
Through this hype, many irresponsible or untruthful startups was grown that promote useless tools that make more confusion among users. Some of providing best services that are not such branded companies but are a good startup that needs brand values. One of them is Nuance, which now integrates with Kofax and makes a product named Power pdf editor advanced & basic version.
In Kofax Power pdf rewrite, the text or sensitive information is offered from the tools from which an author can save their time or reputation. Also, with Kofax power pdf advanced, users can change redaction color Kofax and many more like this. Rather it can be done with Adobe PDF Editor, Nitro PDF Productivity which is also some alternatives to Kofax Pdf Editor.
Conclusion
With redact in Kofax power pdf users or authors can redact the sensitive information from their document or pdf that's easy to use for everyone. Also, in the media, the news of false redactions is viral because of choosing the wrong pdf editor tool. If you adopt the use of redacting in Kofax power pdf advanced editor then your documents are more secure or trustable.
This pdf editor is cost-effective, budget-friendly, and easy to learn also for everyone. After using its free trial you can upgrade to its subscription plan for more getting more features and tools that make your work faster and easier. Also, Kofax has cost-effective business plans, one-time payments, more secured and personal customer support, and many more you can browse details from its official site.
Official Site: www.kofax.com
Q How do I blackout text in a PDF?
In Kofax Pdf blackout text is simple and easier.
~> For this go to Tools> Redact.
~> Select Redact Text & Images from the Edit menu.
~> Choose the text that will redact 
~> Now, choose to redact in menu
Q Why can't I redact a signed PDF?
If your document has a gray bar across the top then your document is open for editing. And, if the Redaction Mark is turn out to be gray then your documents are signed or unable to be redacted.
Q How do I redact on Kofax?
~> Go to Security > Redaction > Redaction Properties
~> On Redaction Mark appearance set according to you.
~> Select the tool and mark the text to redact
For further query about Kofax, which we discussed above in the article.
Q Can you redact in nuance power PDF?
Now, you can redact in nuance power pdf through Kofax pdf editor easier and permanently with using the right tools for redacting. For redact in Kofax power pdf we provide the solution in the above article. 
Q How do I search in Kofax?
Kofax Power Pdf editor offered a "Search tool" that was placed on the right side of the Home bar. From the down list choose Search Current or Search Multiple. Or you can get a proper step-by-step guide in the above article.