In this 21st century, the generation is getting technical day by day to do anything in the easiest way they can. The same as the garage doors are getting automatic too with the help of smart tools. But these tools might trap you in difficult error problems such as Liftmaster error code 4-6. This error occurs when your garage doors are not opening with your remote control and the opener lights are flashing continuously.
So if you are also facing a problem like this then let's discuss how to solve the Liftmaster error code 4-6 error.
How To Fix Liftmaster Error Code 4-6
First of all, to get rid of error code 4-6 of Liftmaster. First, verify if your safety reversing sensors are installed or obstructed out of alignment. And rearrange these sensors to confirm both LEDs is steady or not flickering. Make ensure to you nothing is dangling or hanging on the door that would interject the sensor's route while closing the door.
Steps To Fix Liftmaster Error Code 4-6
Make sure sending sensor & receiving sensor are glowing steadily.
Align the sensor- lenses are pointing to each other
Make sure there is no obstructive material. If they are then, remove it.
Try elevating slightly above the ground by the rail of the brackets.
Put it higher than 6 inches above the garage floor. Not detect any obstructing material
Features of Liftmaster
There are some features of LiftMaster given below:
LiftMaster brand offers remote control and wall control panel.
Liftmaster offers models that have an ever charge battery backup system, this system is designed to operate your garage door opener for up to 40 cycles when the power is off.
Liftmaster offers their smart control panel that displayed the time and temperature, plus a motion sensor in the control panel that has hands-free.
Liftmaster offers different kinds of openers
Affordable
Liftmaster provides the most convenient features and it's proven that it is a more reliable opener.
How to Reset Liftmaster To Solve 4-6 Error
To reset the Liftmaster opener system, you have to follow some steps:
Push the button on the remote
Press the button located on motor
Hold the button until the light on the garage door opener flashes, indicating the system has been reset.
If you facing some problems regarding Liftmaster error code 4-6 then, firstly you can reset Liftmaster by these following steps.
How To Repair Liftmaster Garage Door By Yourself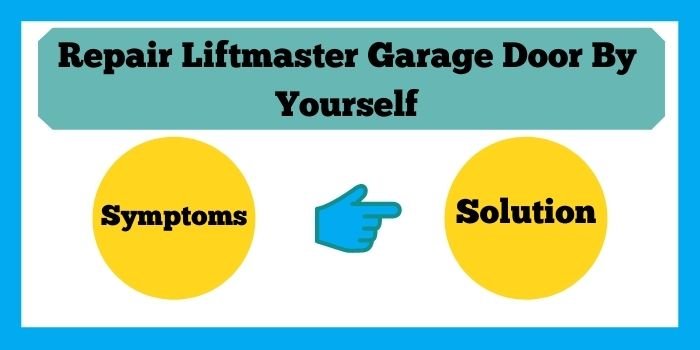 If you want to make a Liftmaster garage door repair by yourself then, you need to understand what is wrong is happening. Check out whether the up and down arrows flash and you will probably also notice symptoms showing that something is out of order. These symptoms are explained in the Liftmaster garage door opener manual is below.
| Liftmaster Error Symptoms | Liftmaster Error Solutions |
| --- | --- |
| The garage door opener will not close and light bulbs flash( this symptom has three solutions) | Safety sensors are not installed, connected or wires may be out of impact sensor wires for a disconnected. There is a short or reversed wire for the safety sensor. Impact safety sensor wire at all staple points and connection points and replace wire or connect it as needed |
| The door control will not function | The wires of the door control are shorted or the door control is faulty so you have to do to impact the safety sensor wire at all the points and also connect points and replace wire or correct as you needed |
| The door moves 6-8 then stops or reverse | firstly manually open and close the door. check for binding and obstructions, such as broken spiring or do door lock. correct it as needed. check wiring connection at travel module. Replace the travel module if it's necessary. |
| No movement or sound | Replaced logic board |
| The battery status LED is constantly flashing green | This is because of battery backup charging circuit error, replace the logic board. |
Liftmaster Problems and Solution 2023
Here are some problems and their solutions are given below:
| Liftmaster Problem | Liftmaster Solutions |
| --- | --- |
| The garage door opener doesn't operate from the door from either the door control or the remote control. | If the garage door opener has electric power. Then, plug a lamp into the outlet, and if it doesn't light check the fuse box or the circuit breaker. |
| The yellow and red LEDs on the door control are blinking quickly. | The control panel is charging and may take 5 minutes to become optional. |
| Remote control will not activate the garage door | Reprogram the remote control The lock feature is not activated on the door control |
| How to clear Liftmaster error code 4-6 | Verify if your safety reversing sensors are installed, obstructed, or out of alignment. Rearrange both sensors to confirm both LEDs are steady and not flickering. |
| The door doesn't open properly and completely | Check power door lock |
| The remote control has short range | Change the location of the remote control in your car check and be sure the antenna on the side or back panel of the garage door extend fully downward |
| The door will not close and the light bulbs blink | Verify the safety sensor is properly installed, aligned, and free of any obstructions |
SUMMARY
Liftmaster error code 4-6 is a tool that is useful for garage door opening. it helps you to make your work easy. In this article, we also discuss how to fix it, Liftmaster features, and how to reset Liftmaster. Even we also provide you Liftmaster symptoms, problems, and their solution in our article which is useful to you.
What Is The Best Way to Fix Liftmaster error codes 4-6?
The best by which you can fix the 4-6 Liftmaster error code is by fixing the alignment of the sensors. However, there can be also other issues by which you are getting error in your Liftmaster. You can try to remove obstructions, change mountain brackets, and height management to solve Liftmaster error code 4-6 easily.
What does error code 4-6 mean on Liftmaster?
The error code 4-6 of Liftmaster indicates that the garage door is not opening automatically and the lights are flashing continuously.
How Do I Fix Liftmaster Error Code 4-6 Quickly?
To solve the Liftmaster 4-6 error code quickly you can try to align sensors and clear their space so they do not get blocked when closing or opening your garage door.
Other Blogs You May Like: