It used to be a big deal to hack a mobile phone without touching it. But today in the advanced machinery world, if you use the right tools and right methods it can be possible to hack someones phone remotely free. Hacking a cell phone with some techniques and ways is as easy as ABC. So, let's get started and know the ways to hack someone's phone for free and without any software.
How To Hack Phone By Sending A Link or SMS?
There are millions of ways to hack cell phones but we are telling you the best methods to hack someone's phone are by sending a link or an SMS.
Midnight Raid
Wiretapping & Tracking Through SS7
Control message attacks
Midnight Raid (Hack Phone With SMS )
Why is it called midnight? This method is mostly used during midnight when the user is asleep. With this method you can hack phone by sending a link, or sending a message, the process starts with a text message which clearly demonstrates getting access to somebody's phone. You have to send a text message hacking text "you are being hacked" on the target phone at midnight. This text invokes the internet explorer on the target device. After that, the application starts running on the device to recover data and brings along with it the phone's unique ID, IMSI number.
It is a well-known and very easy method to hack a handset. Regular hackers are fond of using this method to perform the hacking trick.
Wiretapping & Tracking Through Ss7
This is a very old protocol in the hacking field to hack someones phone remotely free. This connects the majority of the mobile networks around the globe.
By using this amazing wiretapping & tracking through signal system SS7 you will be able to hack someone's phone remotely for free. This protocol tracks the location and monitors calls, incoming and outgoing messages by which it gets easy to get access on the target device.
Control Message Attacks
It involves sending a control message on the device you want to hack without touching. When you send the control message to the phone it will provide you access to the target device. After that, you can track all the activity of the user and they would not have any idea about it. Attacking via text messages is the easiest way to hack anyone's mobile phone but this hack is only limited to smartphones.
What Program Do Hackers Use To Hack?
There are three best apps to hack a phone even without touching: Minspy, Spyier, and mSPY.
Minspy (hack Mobile Remotely)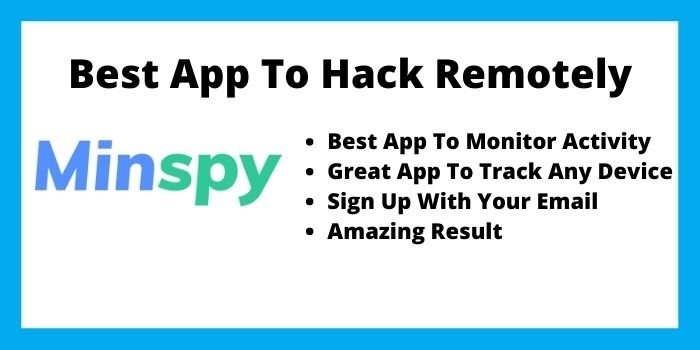 This is an amazing app to hack someone's phone remotely free. With the help of this app, you can hack almost every activity such as contacts, message readers, call logs, browser history, etc of the targeted device.
This is the best app to monitor the target device without having a physical connection to it. You can access the monitored data from any internet-enabled device like laptop, smartphone, tablet, etc. It works on stealth mode after installing this app on your device. So, you can easily sign up with your email and start tracking phone calls remotely from any web browser.
Spyier # Great App To Track, Monitor Any Device
There are millions of parents, employers, relationships that take the benefit of Spyier to track the activity of any person they want. It is a web-based, stealthy, 100% secure, and trustworthy application to hack mobile phones. This application tracks all the calls, messages, locations and works with android and IOS devices.
By using Spyier you can hack or track someone's phone remotely free. All you have to do is install the application and within minutes you will be able to monitor, track the target device with your PC and phone. There is another benefit of Spyier is that you can also track FB messages, WhatsApp spy, Instagram spy, Viber, and. Therefore we can say that this is one of the best apps to hack someone's phone without touching their phone.
mSPY # Best Hacking App For Android
MSPY is the best app hacking device for android. This app has 25+ features with calls, SMS, keylogger, internal usage, photos and videos, GPS tracking. MSPY can also track Facebook, Whatsapp, Instagram, and other apps too. It provides quick installation, user-friendly interface and works well with all android devices starting with OS 4+.
You can also use this app to prevent your kids from cyberbullying, online danger, online exposure too. It requires no installation in iPhones and works in background mode to hack someones phone remotely free. Hence this app is at top of the list in hacking someone's phone remotely free and can be beneficial for any purpose.
How To Secure Your Phone From Hackers?
All the basic phone security tips you need to know to secure your phone from hackers.
Never leave your phone unattended
Change your default password
Manage your Bluetooth security
Protect your PIN and password
Don't share any information
Also Read: Code To Check If Phone Is Hacked
IMPORTANT NOTE :
This article is only for providing information and knowledge. We don't recommend any method or application to you. If there is any mishap that takes place then we are not responsible for it.
Can Someone Hack A Phone With Just A Phone Number?
Yes, hackers can do this trick. They can hack your phone with just a phone number.
How To Hack An iPhone Remotely?
It might be possible that with some software and applications, iPhone can be hacked.
Which App Is Free And Best To Hack Android Phones?
mSPY is the best app to hack android phones with features of tracking calls, SMS, keylogger, GPS tracking, etc. 
Can Someone Listen To My Phone Calls Remotely?
The answer is Yes. By using tracking software somebody can easily listen to your phone calls remotely.