Bitdefender and K7 both are high-level security provider companies. Both are helpful to secure the information that contains your device. You know that both companies are useful in their own way. But if you don't know how to analyze them with each other. Then have look at the Bitdefender vs K7 because it shows the comparison easily. Their products are useful to protect your information from CyberThreats, Malware, Phishing, or Ransomware Attacks.
Features Of Bitdefender Vs K7 2023
Bitdefender and K7 are the best Antivirus companies that's why you are looking for a comparison. But both brand has different features to protect you from Cyberthreat or Viruses. Now, you can see that how Bitdefender vs K7 company has differed features from each other.
Features of Bitdefender
Anti – Malware

Protect from Ransomware, Trojans, etc

Secure Browsing

Safe Files

24/7 Live & Chat Email Support

Provides Password Manager

Helpful for Parental Control

VPN Facility

200MB/Day Online Privacy

Show Anonymous

Secure from Public Wi-fi

Useful for Online Banking
Features of K7
Anti-Scanning

Secure from Malware, Spyware, and Ransomware

Useful Firewall

Email Support

Parental Control Support

Web Protection
Versions of Bitdefender vs K7 2023
Bitdefender
Total Security

Family Pack

Premium Security
K7
Antivirus Premium

Total Security

Ultimate Security
Name of Products of Bitdefender and K7 2023
There are differences between the Bitdefender and K7 Products which are available by the company.
| | |
| --- | --- |
| Bitdefender | K7 |
| Gravity Advanced Business Security | K7 Antivirus Premium |
| GravityZone Business Security | K7 Total Security |
| GravityZone Elite Security | K7 Ultimate Security |
| Endpoint Detection and Response | K7 Antivirus for Mac |
| GravityZone Ultra Security | K7 Mobile Security – Android & iOS |
| GravityZone Ultra Plus Security | K7 Business Security |
| GravityZone Managed Detection and Response | K7 Antivirus Security (With Firewall) |
| GravityZone Enterprise Security | K7 Mail Security for MS Exchange |
| Security for Virtualised Enterprises | |
| Security for Endpoint | |
| Network Traffic Security Analytic | |
| Security for Exchange | |
| GravityZone Sandbox Analyzer | |
| Security for Mobiles | |
| Bitdefender Hypervisor Introspection | |
| Browser Isolation | |
| Bitdefender Security for AWS | |
| Cloud Security for MSP | |
| GravityZone Email Security | |
| GravityZone Security for Storage | |
| Patch Management | |
| Full Disk Encryption | |
Bitdefender vs K7 – Suitable Devices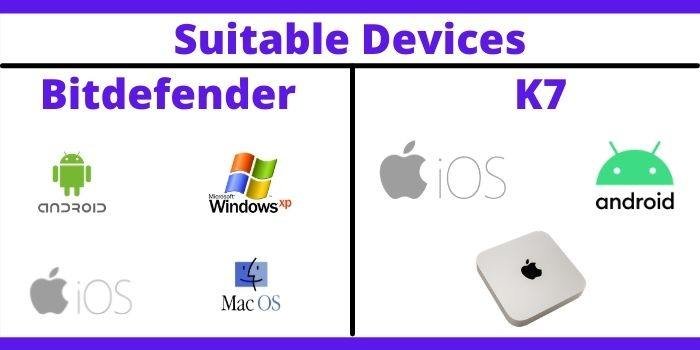 Now let's have look at Bitdefender vs K7 software and which devices they support the most.
Bitdefender can be installed in Windows, macOS, Ios, and Android to protect these devices. While Mac, Android, and iOS are most suitable for K7.
Compare Prices and Number of Devices – Bitdefender vs K7
If you want to get more security from Cyber or Hackers' attacks then you should have to pay more. Let's see a table that contains the Prices of both Bitdefender and K7. Here is the Price Comparison of Bitdefender Total Security vs K7 Total Security.
Price of Bitdefender
| | | | |
| --- | --- | --- | --- |
| Basis | Total Security (Personal) | Total Security (Family) | Bitdefender Total Security (Ultimate) |
| Cost | $39.59/Year | $77.99/Year | $86/Year |
| Number of Devices | 5 | 15 | 20 |
Price of K7
The cost of K7 Total Security is $16. It is easy to use and budget-friendly software for all the users.
FAQs – Bitdefender vs K7
Is Bitdefender worth paying for?
Yes, Bitdefender charges a high price and provides full service against the cost. It because this offers a VPN facility too with the Bitdefender Antivirus Software. Now grab the two benefits at the cost of one Software to Secure from Hacker/Prying Eyes or Ransomeware, Malware, etc.
Is K7 good for Windows 10?
Yes, it is good and supports Windows 10. Install this software on your device and enjoy the service by securing your information from Viruses and Ransomware.
Does Bitdefender or K7 offer any Trial?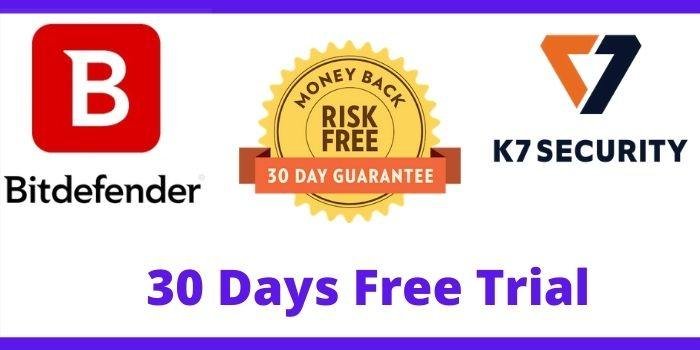 Users of Bitdefender and K7 can grab 30 Days MoneyBack Guarantee before purchasing the subscription of Antivirus. This is helpful to satisfy the users before purchasing the Antivirus Products.
Which is better K7 or Bitdefender?
Now we have discussed the Prices, Features, and Products of both Bitdefender and K7. According to the Price, K7 Total Security can come in your budget as compared to the Bitdefender. But when you compared according to the Products and Features then Bitdefender won. This is easy to decide that which Bitdefender vs K7 is best to use. After reading this, you can easily decide which is useful for you. Bitdefender company gives high-quality rich – features and VPN service with the Antivirus.
Other Blogs You May Like: