Divi comes with lots of easy-to-use features that make it suitable for both novice and professional. But like everything else, you will find both positive and negative aspects with this Divi WordPress theme builder. Here, we are going to discuss the major Divi Pros and Cons to find its both good and bad impacts.
You may don't know but Divi was the most used theme of the year 2020. On its WordPress page, it has collected so many positive reviews that attract other website owners. So let's review this theme in deep and dive into its all aspects.
---
Features of Divi Theme & Page Builder – Divi Review 2023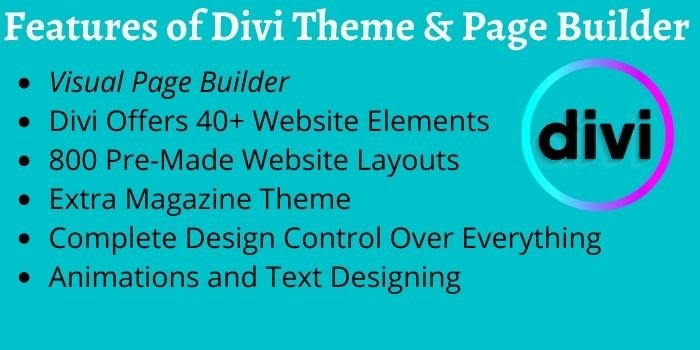 Divi gives its users many editing options to make their site attractive and Google-friendly. So let's get started and discuss one by one the key features of Divi.
---
Visual Page Builder
With Divi page builder you can customize your website according to your needs. It does not matter what kind of website you are run, Divi will fulfill your all needs. You can design your site from blogging site to fashion blogs, to eCommerce, this theme is designed to meet your needs.
With Divi, even a beginner can build a page easily with basic knowledge or website designing. The pages you designed with Divi will be mobile-friendly and fully responsive. By just dragging and dropping you can make a page that fits into your needs.
---
Divi Offers 40+ Website Elements
This theme provides users a pack of 40+ elements to put on their site. So you can add and try any element on your site till you get the best look of your page. You can add testimonials, galleries, forms, sliders, and many more elements to your page.
---
800 Pre-Made Website Layouts
Divi allows you to its 800+ pre-made website layouts for free. You can pick any of the website layouts and put that to give your site a new look. So either you want to make a site for your business or your personal use, you can edit it according to your choice.
You can make a site for purposes like e-commerce, technology, beauty, events, health, and many more. With just one click your chosen site layout will get transfer to your website. Then by using other customization options you can edit your site with your data and details.
---
Extra Magazine Theme
Elegant themes always try to update Divi to being on top of the most used theme. Beyond great website layouts and features, Divi also gives you an extra magazine theme. This theme is the same good as Divi and provides more specific options as compared to Divi.
This theme will be the best choice for journalists and people who want to show their portfolios to everyone. The extra theme will also provide your site a good speed and responsiveness with great-looking pages. This extra theme can perfectly work with Divi builder and provides 800+page templates.
---
Complete Design Control Over Everything
With Divi, you can edit or customize any color or text you want on your page or site. Using hover options you can make amazing hover effects and make the Divi module so fun and attractive to look at. The hover options interface is so easy to understand and use.
You can also make your page or site responsive with so ease. Divi is already a Responsive theme on its own but you can also edit your pages according to the devices if you want. Divi gives you complete control over all design settings to give your imagination a better look.
---
Animations and Text Designing
Easy to add animation will make your site so attractive in front of everyone. Use Divi animation presets and puts any make your own animations speed, shadows, movement, and much more. Give your visitors a surprising look after every scroll on their phones and desktop. You can also edit text fonts, sizes, highlights, and other detailing you. Divi avails you of a color palette filled with your recently used colors.
---
Divi Pros and Cons 2023
Know you are aware of the features of Divi. But as we already said that advantages and disadvantages Of Divi too. So without wasting any time let's get started with the pros and cons of Divi.
Divi Pros
100+ Stunning Templates
Provides a clean and intuitive interface
Free service for any website
Drag and drop page builder
Bundled with extra theme
40+ Website elements
Supports additional CSS
Clean and simple design
Divi Cons
No pop-up builder
Large pages can slow down site speed
The inline edition option can be better
---
Is Divi Actually Good?
Divi offers great-looking templates and various features to change any web page look easy. It was also the most used wordpress theme of the year 2020. The drag and drop function of the Divi theme makes it useful even you are a beginner or professional.
With 800 plus pre-made website layouts, you can make a site related to any work or business. Divi gives you control over the complete page of your site, so you can make changes anywhere you want. But still, if you have any doubt about this theme then stay connected with us in this Divi Pros and Cons 2023 article.
---
Is Divi Bad For SEO?
No Divi is SEO friendly and its drag and drop option makes it website owners favorite. But Divi wordpress theme will ever impact negatively on your site SEO. Divi theme website builder is one of the best site builders to make elegantly designed pages with so ease. So if you are also planning to buy this theme then above mentioned Divi theme pros and cons will surely help you a lot.
---
Is Divi Good For Beginners?
Divi drag and drop features are also one of Divi builder's pros and cons. The drag and drop function allows you to put any element on your page by just dragging it. So even if you are a beginner then the Divi theme can be the best choice for your site structure. We hope that this Divi Pros and Cons post helped you to know most of the things about this theme so you can take the best decision for your site.
---
FAQ –  Divi Pros And Cons 2023
Below here we have provided some of the questions related to the pros and cons of Divi in 2023 that can help you to know more about this theme.
Does Divi Slow Down Your Site?
When you put a lot of elements on your page then the theme also adds additional CSS or JavaScript on it. So yes Divi can also down your site if you add various items on the webpage.
Is Divi The Best WordPress Theme?
Divi was the most used theme by users in the year 2020. You can read all Divi pros and cons above here to know why it was the best.
How Can I Get Divi For Free?
Visit the home page of elegantthemes.com and select try it for free option to use Divi theme for free.