I think that at this time there will be nobody on this globe who does not know about Google Chrome. Using google chrome has become a part of our daily life but in spite of that, many users don't know how to find and change google chrome settings.
So here I discuss and provide you with chrome settings help guide and all information about Google Chrome Settings.
How can I change my Google Chrome Default Settings?
Google Chrome is a free-to-use web browser developed by Google. That is used for accessing web pages on the internet. There are many significant different settings in chrome's default settings that matter a lot from a user's point of view. Let's learn them slowly but surely. Below here describe some Chrome settings help that you should know –
Open Google Chrome Settings Help Page
You can type chrome://chrome/settings/ into the address bar to directly visit the Google chrome settings help page.
In the beginning, you have to open the google chrome setting page on your device, click the three-line button at the right top for opening the browser window, and after that, click on the setting option to open the setting page.
Change People Setting
On the chrome, people setting page, the user manages their browsing data because Google can sync all browsing data while accessing google chrome. You have to configure chrome to enable syncing and personalization. You can change your name, and picture, import bookmarks, and other settings from other browsers, and manage your Google account on the change people setting page.
Change Autofill setting
Autofill settings stores your personal information like passwords, payment methods, and addresses but don't worry it is not revealed to anyone without your permission. It is for further use on different websites to save your time. So Go to the Autofill section of the Google Chrome settings help page and disable the Autofill option.
Change Google's Appearance
In this section, you can change different aspects of the browser's appearance of google. There is an option to show the home button and change the size, font, zoom in or out, and browser's theme of your web pages.
Change The Default Search Engine
Chrome uses the google search engine as default when you type a search query into the search bar. You can change the default search to Yahoo, Bing, or any other search engine in the default search engine setting. Click the search engine list to choose major search engines or click the manage search engine for selecting other types of search.
Change Your Privacy And Security Setting
The next step is to scroll down the setting and you will find the privacy and security setting. The privacy and security section has different parts that can make your browsing experience less private and secure.
This section includes chrome sign-in, don't track requests, permits sites to check for saved payment methods, managing certificates, preloading pages for faster browsing, clear cache, cookies, and other browsing data from this section.
Change Language Setting
This section is special for changing language in the google chrome settings Help. You can find and select any language according to your wish in this section.
Change Download Option
When you download anything from the internet so by default it is saved in your downloads folder. If you want to change this default to another folder so you can set this download option according to your convenience.
Change System Setting
This section lets you configure a handful of technical settings that affect how chrome runs on your system. It also includes currently running apps in the background and using hardware acceleration.
Restore And Clean Up Chrome
There are two things in this section first restore and second clean up in the google chrome settings help section. You can select to restore chrome's settings to their original default or clean up your computer by letting chrome find and remove harmful software from your system.
Add Accessibility Features
If you want to make more chrome accessible to users with vision or physical challenges, go to the accessibility section of the settings page to find and download various accessibility features.
How to Reset Google Chrome Browsing Settings On Android?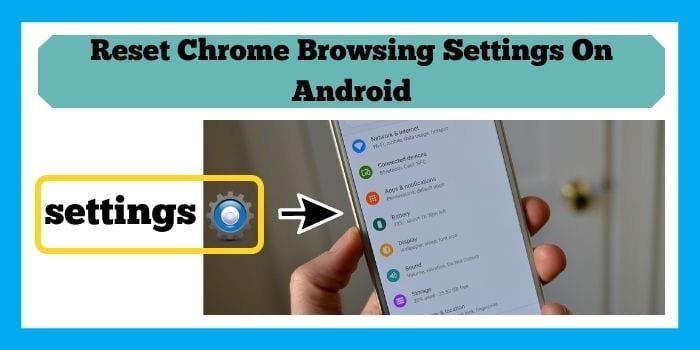 So here are the simple steps that you have to follow to reset google chrome settings:
"Open" your device settings app after then tapping on the apps
"Click" storage
"Click" manage space
"Tap" clear all data
"Click" for confirmation.
After resetting your chrome settings you won't lose any bookmarks or saved passwords. But your all settings will get back to their original conditions.
how to Reset Chrome Browsing Settings On Windows And Macs?
The below steps will help you to reset chrome browsing settings on Windows and Macs.
"Open" google chrome browser
"Click" on the customize google chrome button
"Click" on the setting for the context "menu"
Scroll down and click the Advanced button to show more options
"Restore" settings to their original defaults
Confirm on the "reset" setting button
These are the various google chrome settings helping tricks that are important to every user of the internet. By setting these changes you can protect your browsing history and enjoy the risk-free experience of google chrome.
Frequently asked questions
Where Do I Find The Google Chrome Settings?
For finding the setting page you will have to tap on the icon of three horizontal lines, then open up a dropdown menu button and find settings at the bottom of the screen.
How Do I Get The Google Chrome Settings Icon On My Home Screen?
Firstly click the icon of your application, and see there will be a setting option in the application. Now press, hold and drag it to your home screen.
Where Are The Settings Of Google Chrome On Chromebook?
On Chromebook, you can find these options in the bottom right of your Chromebook screen.