YouTube is a free video-sharing social networking platform on the superhighway(internet). It is the second-largest search engine next to google. Millions of people are working on YouTube but there are some people who are in dilemma that Is YouTube a good job?
On YouTube, 100 hours of video is uploaded per minute by hundreds of content creators. It is the best way to reach an audience on a huge level.
Is YouTube A Good Career?
Of course, why not? YouTube is the most demanding career nowadays. There are very amazing career growth opportunities in the field of YouTube. YouTube provides several benefits that are important for every YouTuber such as expressing your opinions, the chance to show your creativity, the flexibility of work, earn fame and popularity.
There are many ways by which you can easily earn money as a YouTuber and make it a career:
Become YouTube Partner: If you are a good YouTuber and have a certain amount of subscribers. So becoming a YouTube partner can be an amazing option to earn money. By becoming the partner of YouTube you can earn money by allowing YouTube to add advertisements of a brand or product of any company on your videos. You earn a certain amount of money when a user watches your video.
Collaboration with Brands – There are many national or international brands that offer collaboration deals with YouTubers. If you have good popularity and have value on YouTube, you can charge it for higher. You have to showcase and promote their brand and in return, you get some money and other benefits. As there is no limit to income, I personally don't say that YouTube as a Job, It is a career option.
Selling Merchandise – It is also a very wonderful way of earning money. This can be an option for you, to promote yourself as a brand can earn money. It includes T-shirts, pens, makeup and beauty products, clothing, etc.
YouTube offers a lucky break to build your career as a YouTuber. There are many YouTubers growing in a positive manner who started with zero and now 80% users of YouTube know them very well.
Can YouTube Be Full-Time Job?
Yes, In our opinion YouTube can be a full-time job, and a good career too. Anybody can succeed as a full-time YouTuber through this platform. There are many YouTubers who are considering YouTube a good job as full-time. It takes time or consistency of your work, cost of creating good content. A full-time YouTuber has to upload videos often and on schedule, create sponsored content, and many more to grow.
Is Youtube a Good Job or Career?
There is a misconception, about Is youtube a good job or not. But in reality, Youtube is a real career opportunity. If you are looking at YouTube as an earning source, then there might be difficult for beginners.
Like in Job there is a fixed amount of income in the form of salary but not in the YouTube career option. It takes time to generate a decent amount of income.
Video content creators come on the YouTube platforms to show ideas, to grow businesses, etc. To work in YouTube channels, requires consistency, hard work, discipline, and passion.
So, we can say that Youtube is not a good job but good as a career. We don't recommend to anyone to leave your current job and come on YouTube.
Start your YouTube channel side by side with your job working, once you achieve sufficient subscribers, and then you can make a decision to make YouTube a full-time job or career option.
How YouTubers Can Grow Channel?
There are some indications or signs that can help to grow a youtube channel. Let's discuss them in short.
Strong plan to make money on YouTube
You need to have a plan to make money on YouTube. In the starting, your income can come from advertising. Once you reach 1000 subscribers and complete 4000 hours of watch time after that, you can apply for the YouTube partner program. When you become a YouTube partner you get money from advertisements or ads that are shown on your videos while playing.
Understand your audience well
It is the most important aspect for YouTubers to understand who is the target audience and the demand on your channel. You may add catchy titles, descriptions, video cards, etc. So that you can attract more people to your official channel. By YouTube, you can also communicate with a large amount of audience. Communication is one of the Basic Services Of Internet.
YouTube is a business
Content creators need to have maintained, self-discipline, powerful strategies, passion, strong content or script, goals, teamwork, and so on, in growing business. The same law is applied here if you have these aspects and elements then after you can grow your channel like a business. You may also use the website to promote business. Because there is also so much Importance of Website.
Promote your channel
As every business needs to be promoted the same is here, you will have to promote your business on different platforms such as Facebook, Instagram, Twitter, WhatsApp, etc.
Be your own motivator
It has become very difficult ta have a great career and continuous growth in any field. For consistency of the growth, we have to become our own motivator sometimes. In the field of YouTube, we also follow this and motivate ourselves.
These are the various elements of YouTube that make it a good career and full-time job.
Advantages of Being a YouTuber
It allows a person to follow his desire
No degree is required
No age limit
No office is required
Disadvantages of Being a YouTuber
Time taking
Continuity is a challenge
Plagiarism
High cost for creating great content
You can also know about the Difference between TikTok And YouTube nowadays.
Top 10 Most Popular YouTubers of the world
These are the most prominent YouTubers who are loved by users of Youtube.
PewDiePie 110 million subscribers
Kids Diana Show 81.4 million subscribers
Like Nastya 75.6 million subscribers
Vlad and Niki 70 million subscribers
MrBeast 65.4 million subscribers
HolaSoyGerman 44 million subscribers
Whinderssonnunes 42.7 million subscribers
Felipe Neto 42.6 million subscribers
Fernanfloo 42.5 million subscribers
Voice Sabia 40.9 million subscribers
Worldwide Top 10 Most Subscribed Channels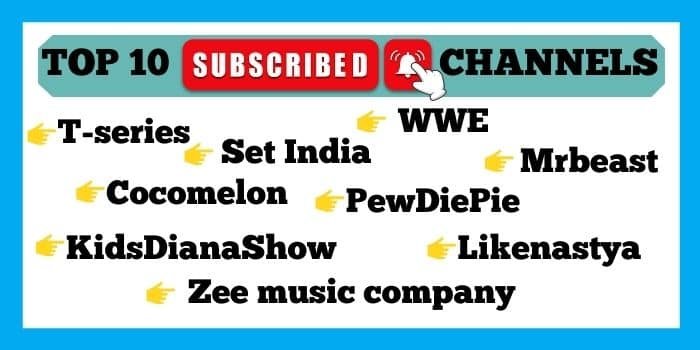 In this below list, we mentioned both YouTubers and channel companies that are well-known and postmasters in their field.
| Channel | Content Category | Country |
| --- | --- | --- |
| T-series | Music | India |
| Cocomelon | Education | United States |
| Set India | Entertainment | India |
| PewDiePie | Gaming | Swede |
| Mrbeast | Entertainment | United States |
| KidsDianaShow | Film | Ukraine |
| Likenastya | Entertainment | Russia |
| WWE | Sports | United States |
| Zee music company | Music | India |
Conclusion
All the important aspects related to Is YouTube A Good Job have been discussed in this article. So, It completely depends on you if are keen and ready to work hard then YouTube is a wonderful option for you. By YouTube, you can easily grow and fulfill all the desires of your bucket list.
Some frequently asked questions by users
Is YouTube A Bad Career?
Absolutely not, a career in YouTube is far better than having a job in the government and private sector. There are many YouTubers who are earning lakhs from their videos.
Is Being YouTuber Stressful?
There is no pressure but it is like a new job with more responsibilities. If you want to grow and achieve your vision, then you will have to take the stress in terms of doing more hard work.