Did you ever feel humiliated because of your Twitter account name? Worry not because like other social media platforms you can change your Twitter username very easily to a good one. if you can't change Twitter username or handle 2022 and also your Profile Display name.
Well, let me tell you one thing Twitter handle/username and display name are different things. So, make sure first you know what you need to change.
With this article, we will tell you how to change your Twitter username and display name in simple steps.
What's The Difference Between a Display Name And Username Twitter 2022?
The difference between the two is very simple and below we have defined both of them.
Twitter Username – Twitter username is the unique name that people use to search for you. It starts with @ and is used to log in to your account.
Twitter Display Name – Twitter display name is the name that shows your Twitter name. It can be identified with other users also.
Change Twitter Username On Desktop In 5 Steps
To change your Twitter handle on your desktop, you have to log in to our account and follow the below-mentioned steps.
Click More options on the left side and select Settings & privacy.
Now from Settings>Your Account>Account Information.
You will be asked to verify the account ownership, so you need to enter the password of your Twitter account.
After that click on your Twitter username and keep it according to you.
Hit save after you have changed the username.
How To Change Twitter Username On Phone 2022?
To change @name on Twitter app you need to login into your account and then follow these steps.
Click on your profile icon at the top and then tap Settings and privacy.
Now click on Account and then username.
Type your new Twitter username that you wish to use. If the username is already taken then you have to enter it differently or you can also use the suggestions.
After that click on save changes from the bottom of your screen.
That's it, now users will see your new Twitter username or handle.
What Happens When You Change Your Twitter Handle 2022?
When you change your Twitter handle your followers will see your new username. Changing the username will not affect any of your followers, your messages, and your old tweets also.
There are sometimes when you started to lose your followers after you have changed your username. This is because that your followers can't recognize your new name and started to unfollow you.
If you are a verified Twitter user the changing your username can result in the loss of your blue tick mark. This is because your name will be mismatched from the Twitter database and you again have to verify your account.
How To Change Display Name On Twitter 2022
Its very simple to change the Twitter display name,
Log in to your Twitter account.
Head towards the Twitter edit profile and you will see your display name.
Click to change the Twitter display name and hit save.
The Twitter display name can be the same as other users also.
Things To Keep In Mind While Changing Your Twitter Handle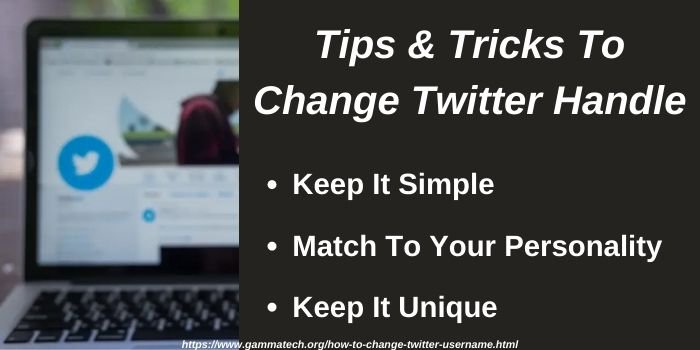 Here are some of the tips & tricks to make your Twitter username the best out of best.
Keep It Simple – Always try to make your Twitter username as simple as you can so that it will be easy for people to find you. This also helps to increase your Twitter followers.
Match To Your Personality – Your username can be your brand that you can't change occasionally. So, it's good to keep your username according to your personality or your business.
Keep It Unique – Your username is always unique and can't be the same. Remember that Twitter allows the user to use up to 15 characters in alphanumeric and restricts to use of any special symbols. You can use underscore (_) while entering your username.
Change Twitter Username 2022 – FAQs
What happens to old tweets when I change your Twitter handle?
If you change your username then it won't affect any of your old tweets. It automatically replaces your old username from anywhere including the old tweets, messages, posts, etc.
How many times can I change twitter username?
You can change as many times as you want to remove your username if available. But it's better to change as little as possible because it can result in changing your follower's minds and they can unfollow you.
Should I use my real name on Twitter?
You can use your real name on Twitter to display a name that can be easy for people to recognize. This will also help to boost your Twitter followers.