Social media is a powerful and valuable tool for any business owner; it is your superpower. With it, you can increase your brand reach worldwide, attract new customers and get feedback, build consumer loyalty, increase trust, carry out market research, etc.
These benefits can only be yours if you know how to wield social media power. For this here is Seven Strategies To Help You Develop Your Social Media, more excellence and geniue. Your social media productivity is excellent if you notice more traffic to your website, increased revenue, more followers, increased brand visibility, higher conversion rate, increased engagement, etc. 
These are signs that you are being efficient on your social media accounts. However, sometimes it can be challenging to increase your efficiency on social platforms or achieve your marketing strategy goals. So, this article provides you with seven tested and trusted strategies that will help you develop your social media productivity.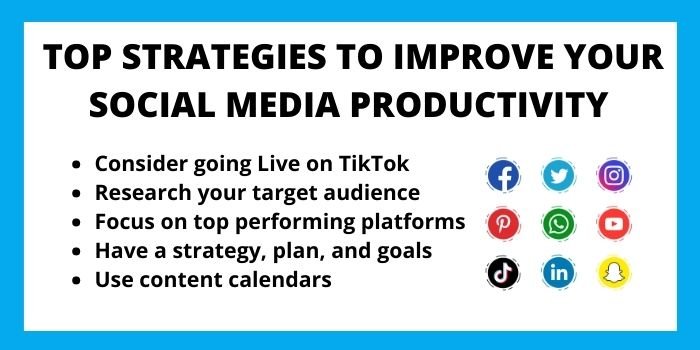 These are the top seven strategies you should adopt to increase your social media productivity. 
1. Consider going Live on TikTok
Each year, social media platforms develop ways to improve their app to benefit the users. One such application is TikTok. It came into existence in 2016, and individuals (and businesses) use it to create funny, informative, entertaining, and educational videos.
If your business is not yet on TikTok, consider changing that as soon as possible. One fundamental way of boosting social media productivity on TikTok is TikTok Live. It allows ordinary users and content creators to interact and connect with their followers in real-time.
Going Live has its benefits; for example, it keeps your followers engaged with your business and social channel. In difference between TikTok and YouTube, live streaming on TikTok increases your followers and trust rather compare to Youtube live streaming because of high audience.  
As a business, going live on TikTok is an excellent opportunity to get to know more about your audience and vice versa. You can organize question-and-answer sessions on your Live, share tips about products or services, and show behind-the-scenes footage of a day in your organization.
The benefits are undeniable, but to enjoy them, you must know how to Livestream on TikTok. Below are actionable steps to take: 
First, open the TikTok app and tap on the '+' symbol at the bottom of the screen
When the in-app camera screen appears, swipe right to the LIVE option
Next, pick an image and write an attention-grabbing and clear title
All that is left is for you to go live. Once you are ready, tap 'Go Live,' and your followers will receive a notification.
To go Live on TikTok, you must have over 1,000 followers and be over 16-year-old. Note that you can go live on other social media platforms like Instagram, Pinterest, and YouTube.
2. Research your target audience
If you fail to research your target audience, you will not know their needs and how you can provide solutions. A target audience is a group of people with common interests, demographics, and behavior that your products or services were created for. They are the consumers that your business attempts to reach through advertisements.
By researching and analyzing your target audience, you will understand them better. This will then help you produce valuable social media marketing content.
As a result, you will retain old customers, attract new ones, increase sales, and achieve your goals. Also, there are various analytics tools that you can use to analyze and understand target audiences, such as Hootsuite and Sprout Social.
3. Focus on top performing platforms
There are several social media platforms, and as technology advances, there will be more. Social media is great for business, but does that mean your business should be on them all? No!
There are several factors to consider in choosing the right social media network. For instance, what platform is your target audience dominating?
Also, focus on those networks that provide the best return on investment (ROI). Then, analyze performance and costs across different social media channels. Ultimately, choosing the top-performing platform helps you make the best use of your time and resources, increasing productivity.
4. Have a strategy, plan, and goals
Don't open a business social media account because 'you feel like it.' Instead, have goals and objectives associated with opening that account. These two, together with a strategy, increase your success chances.
When developing a social media strategy, follow these tips:
Find out the purpose for being on social media
Determine what you hope to achieve
Ensure the social media marketing goals aligns with the business's
Research about your audience and competition
Review your current social media accounts and improve where necessary
After creating a social media strategy, have clear plans on how you intend to achieve it and your goals effectively. This ensures you do not waste time moving aimlessly from one activity to another.
5. Use content calendars 
If you are running more than one or two social media accounts simultaneously, it will be challenging to keep up with posting content regularly. You lose followers by not posting content consistently, and people stop engaging with your account. This reduces productivity significantly.
So, how can this problem be solved? Use content calendars. A social media content calendar helps you organize your publishing schedule by date, making it easy to keep track of deadlines and better manage your content creation. In addition, it is an overview of your upcoming posts.
There are several benefits of a content calendar:
It helps you stay consistent with content quality
It eliminates poorly-timed posts and missing postdates; and
It prevents neglecting one social network while spamming the other.
6. Produce engaging and high-quality content
This is an obvious strategy for boosting social media productivity, which shows how crucial it is. The content you share or post on social platforms must be original, relevant, and engaging. If not, your audience will lose interest, and the disinterest will extend to your brand.
Tips for producing quality and engaging content on social media include:
Be as original as possible 
Produce actionable content, i.e., it should make your audience take an action 
Ensure you publish accurate information 
Always tell a story with your content 
Use visuals, such as pictures and videos 
Have attention-grabbing headlines or titles 
Research on what is trending and use it to your advantage
7. Invest in influencer marketing 
Influencer marketing is a form of online marketing in which businesses partner with social media influencers who endorse and market their products and services. An influencer has established credibility in a specific industry, has a large audience, and can persuade others to take action based on their recommendations. 
Investing in influencer marketing boosts social media productivity by attracting the following benefits:
Increasing brand awareness and reach 
Building your brand credibility and trust
Enriching your content strategy 
Boosting search engine optimization and ROI 
Increasing sales
Below are the top five social media management tools for businesses.
Unum is a social media management software that helps individuals and businesses stand out across all social media channels. With Unum, you get beautiful and creative tools to make engaging branded content and provide powerful planning workflows.
Unum makes publishing posts on social media channels easy by either auto-posting or scheduling. That way, you post consistently.
Hootsuite provides tools for managing social media efficiently and getting the best results. With this software, you save time by scheduling posts on your social networks in a few clicks with a simple calendar view. This allows you to do more in less time.
Also, Hootsuite helps produce quality content that delights audiences and reaches more people, making it easy to grow your following.
Buffer is one of the most intuitive, affordable, authentic ways to reach more people on social media channels. You can measure your social media performance by seeing what is working for you and what is not.
This enables you to create better content. Also, you can collaborate with your team to plan your campaigns. With Buffer, you can respond to comments on posts twice as fast by skipping to critical remarks with the aid of labels and hotkeys.
Are you in need of a powerful solution for social media management? Then choose Sprout Social. It is an all-in-one platform that unlocks your social media to transform your marketing strategy.
Sprout Social is a proud leader in usability, customer support, ROI, and user adoption. With it, you can quickly uncover trends and actionable insights.
Zoho Social provides a stress-free way to stay in control of your social media accounts. You can create schedules that work for you and organize your content conveniently.
With Zoho Social, you can understand and analyze who your audience is and how they engage with you on social media. This makes it easy to identify the content that would be appropriate for them.
Conclusion
Social media is one thing you cannot do away with as a business owner. However, it would help if you had the right strategy to increase your effectiveness and achieve your goals. This article discussed seven strategies to boost social media productivity and provided five helpful tools.