Hello Folks, Here we are going to explain to you the difference between Digital Marketing Vs Affiliate Marketing. Because we know that before starting an online business you had a few questions.
We will explain to you the definition of affiliate marketing and digital marketing. We will find out how they relate to each other.
Because of this pandemic attack, online marketing becomes a profitable way to earn money during work from home.
Let's give a dive and know about Digital Marketing and Affiliate Marketing.
Digital Marketing Vs Affiliate Marketing
To find the main difference between Digital Marketing and Affiliate Marketing.
Digital Marketing is a way through which you can create your own physical and digital products. Another side the Affiliate marketing is known as promoting products of another company with the help of digital marketing. Affiliate marketing is a sub-category of digital marketing.
What is Digital Marketing?
Digital Marketing is a process for marketing products online. You can use a form of multiple digital technologies to drive traffic, make sales, and spread messages.
In digital marketing, you can own the products and sell them on websites, social media or hire someone to do this for you. Digital marketing is a concept where you can use SEO techniques on your site. It is a fast process through which you can sell products online smartly.
What is Affiliate Marketing?
Affiliate Marketing is a part f Digital Marketing. It is all about selling products of other companies for a certain percentage of commission. Affiliate Marketing comes under the umbrella of digital marketing.
It is a great model that use by multiple people to make money online. Affiliate Marketing nice way especially when you are starting and trying o make your first dollar money.
It is a promotional technique that uses for promoting multiple products. One of the best ways to earn.
Verdict- Digital marketing is a long-term process that use to run a website and to promote its product. Affiliate marketing is active enough to promote a third-party product.
Table Comparison of Affiliate Marketing And Digital Marketing
| | | |
| --- | --- | --- |
| Base | Digital Marketing | Affiliate Marketing |
| Definition | It is a form of online marketing through which you can sell your product online under the techniques of SEO. | This process uses to promote third-party products and sell them to get a reward of a percentage commission. |
| Elements | Digital Marketing includes many different activities like Email Marketing, SEO, Etc. | For affiliate marketing, there are only three main components required:-Affiliate Marketer, Customers, and Product Owner. |
| Who's the Owner | In this, you can be the owner of your product. | Affiliate Marketing is a relationship-building order to sell products. The product doesn't belong to you, you will get a commission when you sell the product. |
| Spread | It involves various concepts of marketing. It is a broad and complex concept with a range of platforms. | Affiliate Marketing is a part of Digital Marketing. It is a fine process to earn a commission. |
| Skills | To be a digital marketer required many skills like SEO, Social Media, and Analytics. | It includes convincing skills, relationship building to be an affiliate marketer. |
What are the strategies of Digital Marketing?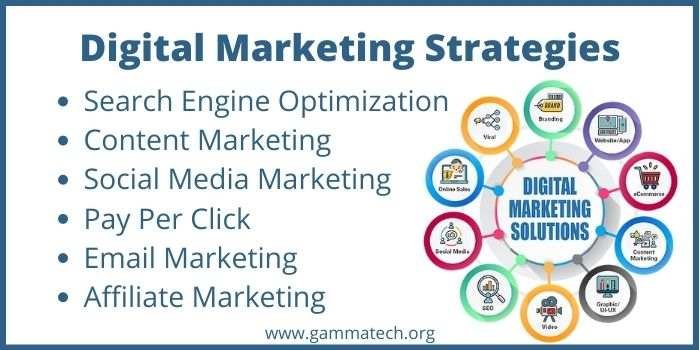 Digital Marketing is the best activity provided by the internet to promote and advertise products and ideas. The process includes multiple activities like websites, social media, email marketing, to connect with customers and advertise multiple products.
The technique is essential for establishing brand identity and awareness. It increases the customers and traffic on your website. For effective results, while performing digital marketing activities use the following tools and strategies:-
Search Engine Optimization
SEO and Search Engine Optimization is the best process to increase organic traffic on websites, blogs, infographics, and videos to improve the results. SEO includes three types of activities On-Page, Off-Page, and Technical SEO. These activities increase the result of your website and make your work easier.
Content Marketing
The Content Marketing process is especially to boost the awareness of brands. Content marketing is done to build a good relationship between you and your targeted audience. To improve the quality of your content add infographics, good quality content, videos, etc to improve the quality. As a content marketing tool blogs are more effective.
Social Media Marketing
TO drive more traffic on a website using multiple social media platforms like Twitter, Facebook, Instagram, Pinterest, & other platforms. It increases the digital presence of your work and website instantly. You can add many other popular platforms for content like Hubspot.
Queries… How to change Twitter UserName?

How to change Instagram Username?
Pay Per Click
Google and Facebook ads are the most common way to advertise and promote work. Pay according to your engagement through the Pay-Per-Click techniques. You will receive the response through advertisements.
Email Marketing
Companies and websites use emails to promote content and brands through emails. The technique is used to direct user traffic to offline stores and websites.
Affiliate Marketing
It is a form of commission-based advertisement through which you can sell a product to a third party easily. The common ways to earn money online.
What are the components of Affiliate Marketing?
It is a form of marketing through which you can earn money/profit by promoting the products of others. The sales in affiliate marketing are tracked by the affiliate links. It is a process through which users redirect to the official website to make shopping with huge savings.
The important components of affiliate marketing are:-
Customers
Customers are the main component of affiliate marketing. When a customer buys anything knowing or unknowing online it is influenced by the affiliate marketer structure. Buyers will find a product on blogs and websites when you search for it. Through this process, you can become a part of this affiliate marketing. If any of the users buy products from online marketing then you no need to pay any extra charges.
Affiliate Marketer
Affiliate Marketers are the main key of affiliate marketing. The marketer chooses and picks the products according to the user's requirement.
Product Owner
The owner of the product is the creator and seller of the item. They do not intensely want to join the product marketing. When you add its product on an affiliate website then you will get a commission on every sale made through your website.
What are the networks to do affiliate marketing?
Amazon.com
AdPlexity
Tyroo.com
commission
Trootrac
Ibibo.com
Cj.com
Clickbank.com
Peerfly.com
Gumroad
Main Difference of Affiliate Marketing Vs Digital Marketing
Digital marketing is a tool and technique that uses to promote and advertise with the help f internet. While Affiliate Marketing uses to promote the good of third part to earn commission on the sale.
The agenda of Digital Marketing is to increase traffic and digital brand awareness, to earn profits. Affiliate marketing is commission based marketing. In this marketer is paid in the term of units.
Digital marketing includes many tools to promote and gain organic traffic. It includes email marketing, SEO, Social Media, and others. Affiliate marketing work on the principles of Customers, Affiliate Marketers, and product owners.
Digital Marketing is a broad and complex online activity. But the Affiliate Marketing is a part of digital marketing.
Digital Marketing is done by the producers and affiliate marketing is always required by a third party.
Why should you choose Digital Marketing or Affiliate Marketing?
If you wonder to start any of the business of digital marketing or affiliate marketing then first know about which one is the better choice for you.
Because both are excellent but many people things that Digital Marketing And Affiliate Marketing are the same. But no, If you ever heard from anyone that both are the same things then forget about it.
Digital Marketing is a concept where you can sell your product and perform further activities to gain organic traffic.
Affiliate Marketing is quite an easy way to earn money by selling goods to a third party through the affiliate link.
Here we are not saying which one is good for you. Because choosing the best its depends on your skills and interest. If you want to start something your own then digital Marketing is might be a good choice. However, if you want to earn money with easy steps then Affiliate marketing is a nice concept.
What is WWW and its Important Features?
Is Digital Marketing and Affiliate Marketing Same?
No, Both are not the same. However, few qualities of both activities are similar.
But, Digital Marketing is the concept that allows you to promote and advertise your product. Another side affiliate marketing is a process that allows the affiliate marketer to promote the product of other third parties.
Affiliate Marketing VS Digital Marketing- Conclusion
In this Comparison of Affiliate Marketing Vs Digital Marketing, you will get to know about all the concepts related to marketing.
First, we cover all the major activities of digital marketing and the concepts of SEO, SMO, PPC, Email Marketing, etc.
Later, we explained to you in detail about Affiliate Marketing and its components. And later we explain the major differences between Digital Marketing and Affiliate Marketing.
And then you understand about Digital Marketing and Affiliate marketing are different concepts.
Digital Marketing is a growing business in today's world and knowing about is essential before you implement the plan of starting a digital marketing or Affiliate marketing business.