In this digital world, whenever we search online, we get various result (information) through a website. In the beginning, we need to understand that "What is a Website?" and after that, you know, What is the importance of Website for everyone (student, small business, organization, etc).
What is Website?
An accumulation or collection of related pages located or linked with a domain. It is built by a single person, or company, agency, and an organization is called a website.
There are many types of websites and may include many elements such as magazines, e-commerce websites, portfolio websites, landing pages, home pages, brochures and catalogs, social media, educational websites, etc.
What is the Major Purpose of Website?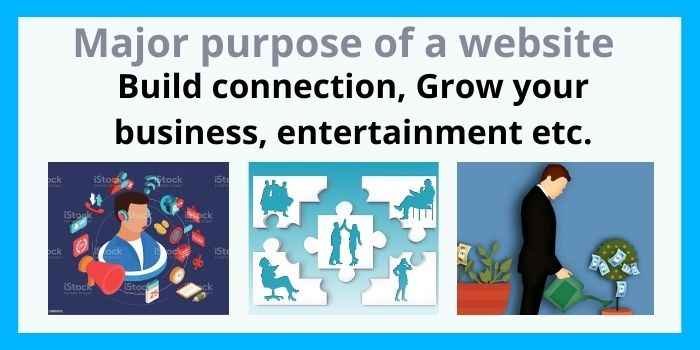 There are millions of purposes of website but some of them are most significant for everybody.
For example – to sell, generate leads, inform, entertain, serve, present, and connect to people through the basic services of internet.
What are the Importance of Website for Small Business?
In this modern era and technological world, people are super busy nowadays. So most of the time users love to prefer using online platforms or make website for doing business.
Hence, it is very significant for the business field because you can grow your business through a website. It helps to enhance your credibility in your business and trade. It also assists you to advertise your products on online platforms. You can also have an online presence or visibility at any time therefore it is a great way of marketing that's why a website is important for business field.
Is Website Important in Our Daily Life?
Why not? There is a importance of website not only for business but also for daily life too. Website plays an important role in daily life. In our day-to-day life, basically, they are the major source of information. It finishes the geographical barrier thereby anybody can collect knowledge from every corner of the world. It is a kind of give and take relationship, because a publisher provides information and the other (user) collects.
What is the Importance of Website in Digital Marketing?
Website plays a important role in digital marketing. In fact, at the starting of digital marketing, our first task is to create a website and the rest of the tools (methods) use to grab the attention of people toward website. This is the main representation of your entire business. If the blueprint of your website is poor then there are 100% chances that it will affect your business in the worst way.
How Website is Dominant in the Life of Students?
On an educational website, there are hundreds of benefits of website, that can be taken by any student around the world.
Benefits Be Like –
Online learning accommodation
Recorded lectures
Quick delivery of lessons
Low cost of material
And much more material is available which are significant to the student's point of view.
Importance of Website in Communication
Communication is the most significant aspect of a webpage. It assists you to have a conversation with the audience in order to grow your business. There can be some options like online chat options, phone calls. You can also give a query and suggestion. So that people can express their views on the website, and it will be the best option for improving your connections and deals with your customers. By this you really came to know how beneficial or important is website in communication.
What is the Value of Website for an Organization?
There is a huge value of a website in an organization for visibility, credibility, and many services which are valuable to the organization's point of view. So that an organization can grow its business and resolve all the major issues of its users via the website.
Hope, you have known now the importance of website in our day-to-day life.

As we all connected to the internet for all activities so, you must have to know what are the basic services of internet.
FAQ
Why are websites important in today's society?
In today's society website plays an important role. It is also important for our daily life. It connects people, source of information, circulation of knowledge.
Why website is important in education?
Website plays a key role in the life of a student. It is very useful for taking recorded lectures, lost cost of material, quick delivery of lessons.
What are the three main purposes of a website?
The main three purposes of a website are brand, product, and inform
You may also like to read merits and demerits of mobile phone