YouTube is one of the biggest social media platforms where individuals and businesses share educational, informative, or entertaining videos. It was launched in 2005 and is currently owned by Google. So here we are to introduce you with the 5 smart ways to grow business YouTube channel in 2023.
Many people thinks that is YouTube a good job? But yes now YouTube gets about 14.3 billion visits per month, more than Facebook, Instagram, Wikipedia, or Amazon. These numbers show your business owning a YouTube channel is a great idea.
By creating a YouTube channel, you can tap into the horde of YouTube traffic, increase the possibility of people finding your business on Google, effectively market your products, etc. In addition, developing your business's YouTube channel brings about more sales, increased profits, brand exposure, and other benefits.
Your YouTube channel's growth is evidenced in increased subscribers, more engagement on your posts, increased followers on other social media accounts, etc. This article focuses on the five smart ways to grow your business YouTube channel in 2023.
5 Smart ways to grow your business' YouTube channel
These five innovative steps will help grow your business' YouTube channel in 2023.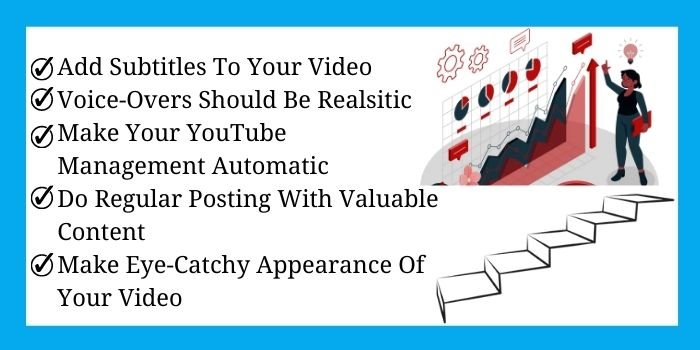 1. Include subtitles in your videos
One surefire way to get more views on your YouTube videos and increase your subscription is by adding subtitles or closed captions to your videos. Also, there'll be a noticeable boost in your SEO when you add subtitles and captions. Subtitles in videos increase your ranking when people conduct searches using relevant keywords.
Also, adding captions or subtitles to your videos makes them more accessible to a broader audience. For example, several people are deaf or hard of hearing. If you have videos without captions, you inadvertently exempt this group of people. But with captions that are accurate, legible, and synced perfectly with your videos, you include those who cannot hear audio.
Viewers can watch videos with subtitles or captions wherever they are. For example, smartphones made it easy for people to watch YouTube videos in different locations like offices, schools, buses, etc. But that does not mean they can enjoy the audio.
For instance, if your viewers are riding on a noisy train or in a quiet library, they won't be able to watch videos with sound. This means they need subtitles and captions. Additionally, if you translate subtitles to other languages, you expose your videos to non-English speaking audiences, making them accessible worldwide.
It could seem challenging to create subtitles, but you can transcribe audio to text quickly and upload the text as subtitles on your YouTube channel with tools like Amberscript. This software also helps translate text to other languages.
Also Read: Develop Small Company On Instagram
2. Have realistic voice-overs
Voice-overs are excellent for growing your YouTube channel. A voice-over is a production technique that records a voice for offscreen use. They are usually used for passing across information to viewers and listeners.
For example, you could create videos with animations and images and include a prerecorded voice-over to flow smoothly with the animations. Also, your voice-overs must be as realistic as possible.
For instance, if the voice-over sounds robotic, it could dissuade viewers from engaging with your videos, which affects your YouTube channel's growth.
There are two ways to get realistic voice-overs for your videos. The first is to hire voice-over actors. These individuals make a living recording their voices for businesses, television, radio, etc.
The second method is using AI voice-overs. Software like Murf.ai provides you with realistic text to voice conversion.
When you upload the script for a YouTube video on the software, it converts to a lifelike-sounding voice-over. You can choose how the voices will sound, e.g., feminine, masculine, child-like, etc. Also, you can select the languages you want the voice-overs to be in.
3. Automate your YouTube management
Automation is the process of using technology to reduce manual, time-consuming, and repetitive tasks. Running and managing a YouTube channel requires a full-time commitment, especially if you hope to see excellent results.
However, as a business owner, you may not have the time to dedicate to managing your YouTube channel. As a result, you must automate some of the processes involved in creating visual content, video editing, and managing your channel.
For instance, instead of manually transcribing your YouTube videos to text, you can use Happy Scribe's audio to text converter to simplify the process. Also, there is software that ensures you create only relevant videos by providing you with the current trends to incorporate them into your content.
Two excellent examples of such tools are TubeBuddy and VidIQ; they help manage your YouTube channel effectively. Also there are many YouTube channels to study web development online by which you will get amazing results. TubeBuddy is a browser extension that allows you to get more views on YouTube videos and more subscribers.
It does this by helping you to optimize your content. For instance, TubeBuddy helps you find high-performing video topics and then crafts the perfect titles and tags for your content.
Also, VidIQ provides you with the most advanced growth tools for video creation. This platform helps you discover keyword, title, and description recommendations that boost views and subscribers.
With its artificial intelligence (AI) feature, you get personalized inspiration to grow your channel. Finally, automating your business's YouTube processes helps you reduce costs and save time while growing the channel.
4. Post valuable videos regularly
When creating videos for your business's YouTube channel, ensure the content you upload is of value to your audience. If your videos do not add value to your viewers or are irrelevant, it will discourage them from engaging with your posts. This affects the number of followers and customers you have.
Before creating your videos, conduct thorough research on your target audience to discover what they want to see or know about your business. Also, consider posting behind-the-scenes videos, videos answering frequently asked questions, and tutorials about your products and services.
Furthermore, track your channel's analytics to determine the top-performing videos. Then, you can reuse these videos and improve on them to get better results.
However, it is not enough for you to post videos on your channel; they must be regular. Posting regularly on YouTube attracts several benefits, such as:
Increased brand awareness
Your business will always be on the mind of your audience
Generate more leads
Higher SEO ranking
Increase in conversion rates
More subscribers
You can use software like Hootsuite, which provides a content calendar to ensure you stick to a posting schedule.
5. Focus on the appearance of your YouTube channel
The look and feel of your YouTube channel go a long way in determining if you will experience growth. So if the channel is not aesthetically pleasing to your viewers, you will be unable to grab their attention.
Also, they will not feel the need to remain subscribed to your channel. To avoid this, do the following to boost the appearance of your YouTube channel:
Ensure you have high-quality thumbnails; do away with blurry images as your thumbnails.
Use titles that will grab viewers' attention
Use concise and detailed descriptions
Create playlists on YouTube to make navigation easier
Ensure your banner is superb
Include links to your other social media accounts
Conclusion: Ways To Grow Business YouTube Channel
YouTube is the second largest search engine, meaning people go there to get information about various topics. So, your business must leverage this.
By improving your YouTube channel, more people will learn about and engage with your business. This will then lead to more sales, growth, and retention.
This article addressed the five actions you can adopt to ensure you grow your business's YouTube channel in 2023. When you follow these steps, you will surely be satisfied with the outcome.
Author Bio:
Lydia Iseh is a writer with years of experience in writing SEO content that provides value to the reader. As someone who believes in the power of SEO to transform businesses, she enjoys being part of the process that helps websites rank high on search engines.